Moultrie M888 Digital Game Camera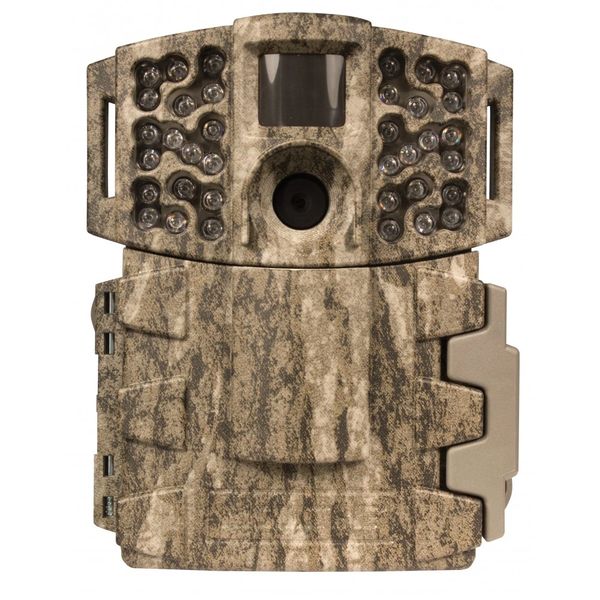 Moultrie M888 Digital Game Camera
New for 2016! Now with a 14-megapixel image resolution, this proven winner features a 100-foot flash range, a blistering trigger speed under 0.7 seconds and 720p HD video. A 50-foot detection range, less-than-5-second delay and 3-photo burst mode ensure you'll capture big bucks on the move.
Boasting advances in image quality and trigger speed, this workhorse of the M-Series line just keeps getting better. A high-performance 14-megapixel sensor captures crisp daylight images, and with the M-888's long-range, 100-foot infrared LED flash, you'll be sure to catch that elusive buck on camera at night. Better yet, an ultra-simple Quick Start menu makes camera setup a breeze while enhanced compression technology means you'll enjoy up to 2.5 times more image storage! A Mossy Oak® Bottomland camo case completes the package and helps keep the camera hidden in the woods.

INFRARED FLASH
A flash equipped with 36 LEDs and 850 nm nighttime infrared technology illuminates game up to 100 feet away in total darkness—for maximum coverage with minimal intrusion.
PHOTO & VIDEO RESOLUTION
Manage image quality and storage with 4 resolution settings, from low (1280x720px) to enhanced (3840x2160px), and capture video in 16:9 (HD) aspect ratio.
SPECIAL FEATURES
Multi-shot, time-lapse and hybrid modes (triggered by passive infrared and time lapse) offer hunters total versatility and customizability while reduced motion blur and extended flash range enhance nighttime image clarity.
EXTERIOR
A sturdy case with a weatherproof plastic exterior comes with standard 1/4"-20 bottom tripod mounts and back slots for use with an included nylon strap or Python lock cable (sold separately) for tree mounting. A Python lock-compatible clasp offers added security.

MEMORY CARD COMPATIBILITY
Works with SD/SDHC Class 4 cards or higher and can handle up to 32 GB. Memory cards sold separately.
MANAGED MEMORY
If set to "Overwrite Oldest," the M-888 will erase your oldest photos and videos to free up space for new photos and videos when your memory card reaches full capacity.
BATTERY LIFE
Requires 8 AA batteries. Captures approximately 17,000 images. Actual results may vary.
OTHER POWER SOURCES
Compatible with any Moultrie 12V DC external power source. Camera also supports AC power mode.
Reviews