Moultrie M999i Digital Game Camera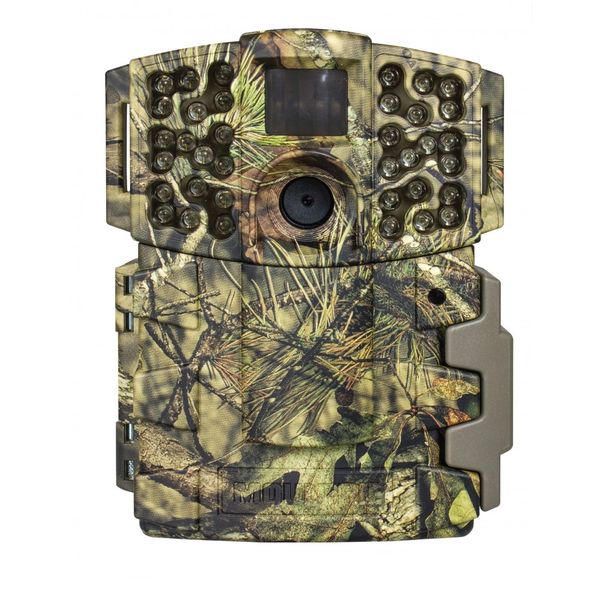 Moultrie M999i Digital Game Camera
New for 2016! Featuring Moultrie's best-ever 20-megapixel resolution and a Mossy Oak® Country camo case with an integrated LED grid array for improved concealment, the all-new M-999i is unbeatable in the field. With iNVISIBLE infrared illumination, full 1080p HD video with sound, a 2-inch color view screen, and improved detection with fewer false triggers, the M-999i has it all
.
Enjoy performance at its peak with a 20-megapixel sensor that produces stunning images day or night, viewable in the field on a built-in 2-inch color screen. Moultrie's iNVISIBLE infrared flash technology with a 70-foot range, a trigger speed under half a second, a quiet design and adjustable infrared sensitivity allow you to covertly capture quality nighttime images and full HD video with sound, while an easy-to-use Quick Start menu makes setup a breeze. You'll also enjoy extended battery life, a long-lasting infrared filter and better-than-ever image storage capacity.
iNVISIBLE INFRARED FLASH
A flash equipped with 36 iNVISIBLE infrared LEDs illuminates game up to 70 feet away in total darkness, without giving away the camera's position.
PHOTO & VIDEO RESOLUTION
Manage image quality and storage with 4 resolution settings, from low (1280x720px) to enhanced (6080x3420px), and capture full HD video in 16:9 aspect ratio.
SPECIAL FEATURES
Multi-shot, time-lapse and hybrid modes (triggered by passive infrared and time lapse) offer hunters total versatility and customizability while reduced motion blur and extended flash range enhance nighttime image clarity.
EXTERIOR
A sturdy case with a weatherproof plastic exterior comes with standard 1/4"-20 bottom tripod mounts and back slots for use with an included nylon strap or Python lock cable (sold separately) for tree mounting. A Python lock-compatible clasp offers added security.
MEMORY CARD COMPATIBILITY
Works with SD/SDHC Class 4 cards or higher and can handle up to 32 GB. Memory cards sold separately.
MANAGED MEMORY
If set to "Overwrite Oldest," the M-999i will erase your oldest photos and videos to free up space for new photos and videos when your memory card reaches full capacity.
BATTERY LIFE
Requires 8 AA batteries. Captures approximately 15,000 images. Actual results may vary.
OTHER POWER SOURCES
Compatible with any Moultrie 12V DC external power source. Camera also supports AC power mode.
2 Year Manufacturer's Warranty
Reviews