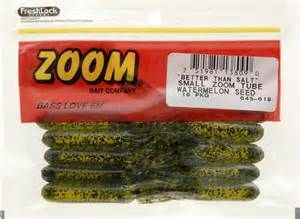 Zoom Tubes
The very soft, lifelike body of the Zoom Tube makes a very consistent fish catcher. This is one of the most versatile baits on the market. Fish it deep on a Carolina rig or Texas rig for largemouth. Throw it on a jig head with the hook exposed in clear, deep water for smallmouth. Pitch it up under docks and into trees rigged weedless. Don't think this bait works well? Just ask 2000 Bassmaster Classic champion Woo Daves. He won bass fishing's most coveted trophy with none other than the Zoom Tube. The Zoom Tubes have the same basic design with the added benefit of Zoom's super soft plastic construction and salt release system. The soft, pliant plastic imparts a tantalizing action to the bait, especially the tentacles, while the salt release system causes fish to hold on longer for a better catch ratio by giving them a burst of salt when they bite down.
Colors - Watermelon Red, Watermelon Seed, Green Pumpkin Blue, Junebug, White Pearl with Silver Glitter, Black Red Glitter & White Ice
Size - Salty Super Tube 4.25"(8 Pack) and Small Zoom Tube 3.75"(10 Pack).
Reviews